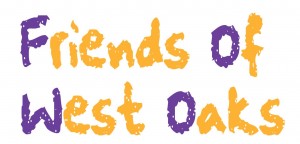 All parents, carers, families and school staff are automatically members of the Friends of West Oaks. The Friends of West Oaks is a registered charity and our parents and carers, school staff and the wider community fundraise for the school which supports teaching and learning. We are always looking for people to become active members of Friend of West Oaks including organising events and taking part in the activities.
The main fundraising activities are the Christmas and Summer Fairs and the Big Breakfast. We also host some smaller fundraising activities throughout the year.  The Friends of West Oaks are currently fundraising towards playground equipment.
There are a number of ways of supporting the Friends:
Join the Friends of West Oaks
Carry out an activity or event to raise money for the Friends of West Oaks
Join the annual West Oaks Challenge
Use matched funding from your place of employment
Donate items for our raffles and sales
These are just a few ideas but please contact the friends by email, [email protected], if you would like more information or to offer your services.
Thank you
(Charity no. 516188)